This week Rite Aid has Colgate toothpaste on sale for $3.50 and you earn a $3.50 Up reward when you buy it, so FREE! Make sure you get the Total Advanced or Sensitive brand. The limit is 4 UP rewards per Wellness Card.
It is a money maker with coupons:
Buy 4 Colgate toothpaste for $3.50 each = $14.00
Use four $1.00 manufacturer's coupons from the 2-12-12 Smart Source insert = $4.00
Pay $10.00 plus tax out of pocket
Get back $14.00 in Up rewards!
There is also a .50 Rite Aid store coupon for Colgate toothpaste in the Diabetes Toolkit coupon booklet that I posted about recently, that you can "stack" with the manufacturer's coupon for a bigger profit.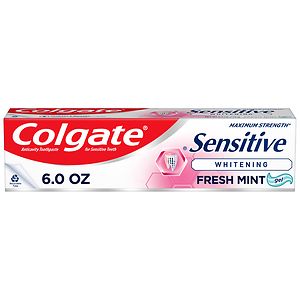 Colgate toothpaste ALSO counts for all of these promotions:
If you haven't yet done the Black History Month mail in rebate to get back $5.00 when you buy $10.00 in Colgate-Palmolive products from the 1-29-12 Smart Source insert, you can submit your receipt and UPC's

to get back another $5.00! Just remember to buy of your items in one transaction.
Colgate is one of the products that qualifies for the Diabetes UP worth $10 when you spend $50 on specified products. This one tracks on your receipt, so you don't have to spend all $50 at once. Grab the Wellness Diabetes flyer and have the cashier scan it when you shop to get credit.

Finally, Colgate counts towards the Monthly UP to get back $10 when you spend $25 on Advil, Robitussin, Thermacare, Dimetapp or Colgate products. If you have tracking leftover from the Thermacare last week, as I do, then you can earn your UP without any extra out of pocket expenses this week!!